Power and speed always at hand
The multienvironment solution with even
better performance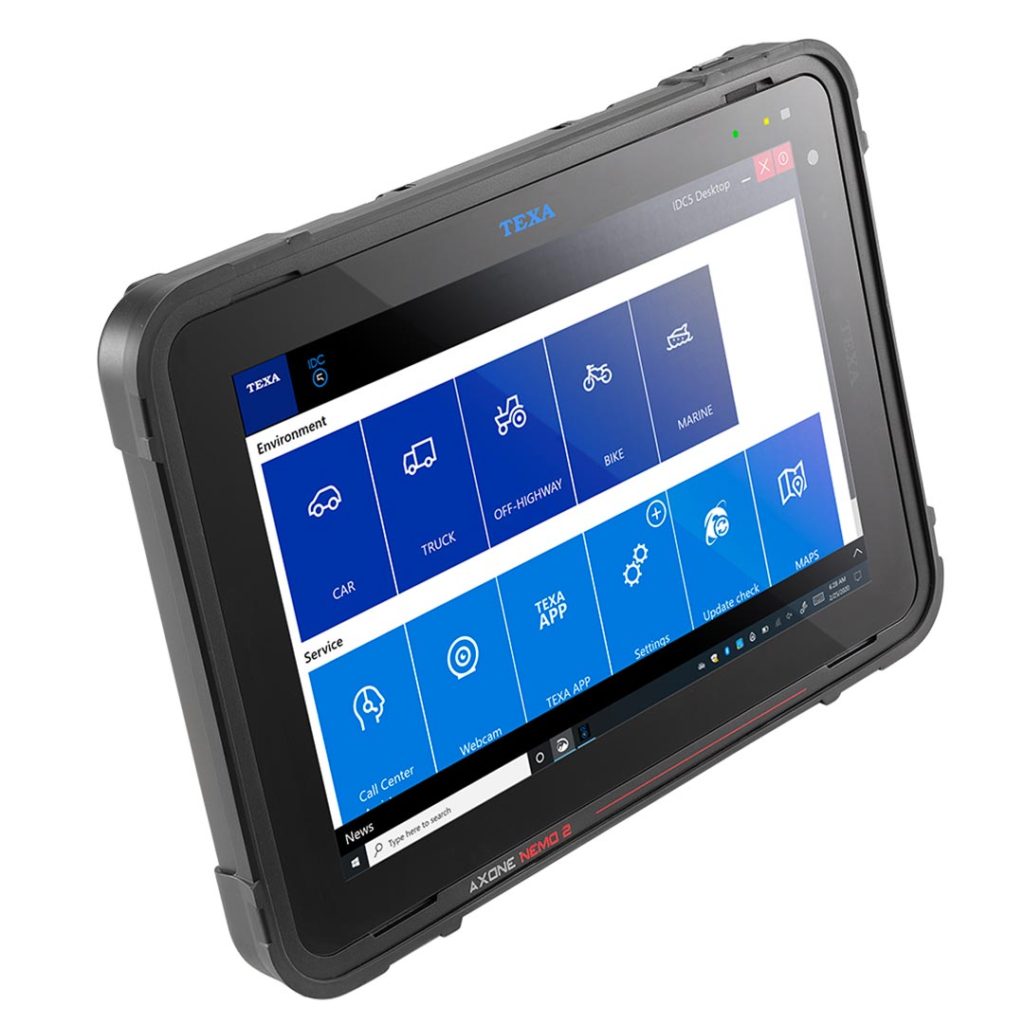 Top of the range technology
AXONE NEMO 2 boasts exceptional features,
internally and externally, these include:

External
– 12-inch capacitive screen
– 2160×1440 resolution
– Gorilla Glass Protection

Internal
– Windows 10 Enterprise
– Intel® Pentium Quad Core N5000
"Gemini Lake" processor
– 8 GB of ram and 250 GB of storage
– 5 megapixel front camera
– 5 megapixel rear camera
2 CAMERAS
Rear: 5 MP AF with FLASH
Front: 5MP
GRAPHICS CARD
Intel® UHD Graphics 600
DISPLAY
12" Gorilla® Glass
RESOLUTION
2160x1440 pixel
A magnesium chassis
like a racing car
The casing of AXONE NEMO 2 is built in magnesium. This noble material was chosen because it confers greater robustness and lightness, also guaranteeing an optimal level of thermal dissipation.
Another distinctive element is the military standard MIL-STD 810 (transit drop test), which makes the tool resistant to impacts and falls.
In addition to these exclusive features, AXONE NEMO 2 boasts TEXA's usual stylish design and quality finish, and is beautifully easy to use too.
With such a display, everything is much clearer
The display of AXONE NEMO 2 provides a great entrance to the world of diagnostics.
Ideal  to help you work always at maximum efficiency, with a clear and global view of all the operations that must be completed.
It allows you to easily display all the data you need to repair your customers' vehicles: Parameters, Errors, ECU Info, Activations, Settings, as well as wiring diagrams, diagnostic help sections, results of control unit scans,
and much more. 
All this from a privileged point of view, yours.
Lightly touch the capacitive screen to reach the required functions in next to no time, and zoom on the contents you are particularly interested in.
The capacitive display of AXONE NEMO 2 takes you to the centre of TEXA's diagnostics.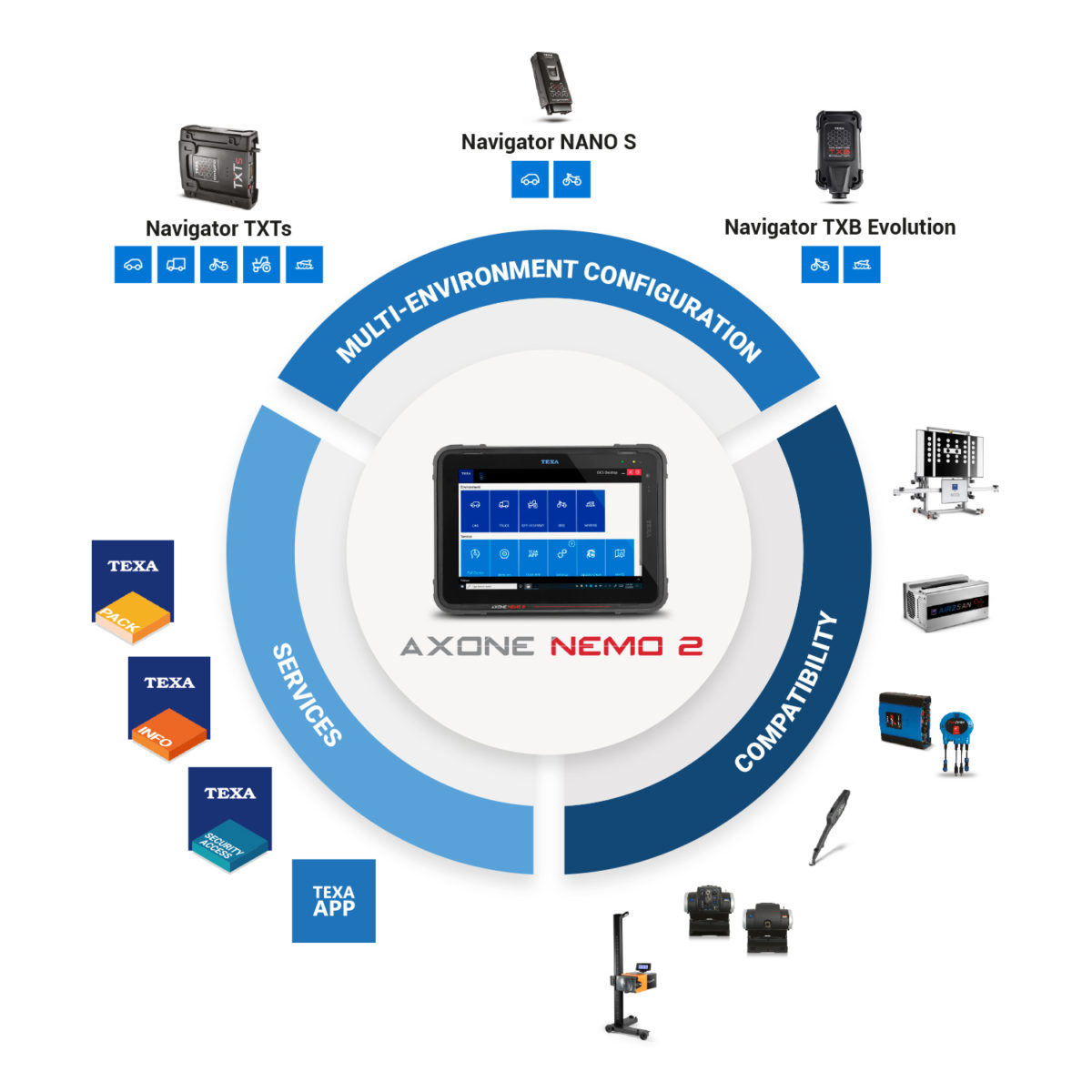 AXONE NEMO 2 can be used paired with Navigator NANO S, Navigator TXTs and TXB Evolution, fully covering, based on your actual operating needs, the following environments: CAR, TRUCK, BIKE, OFF-HIGHWAY and MARINE.
You can further enhance your AXONE NEMO 2, thanks to a large range of dedicated services, such as TEXPACK,
TEX@INFO, TEXA SECURITY ACCESS, TEXA APP. This way you will always have a genuine all-in-one tool available with the necessary elements needed.
AXONE NEMO 2 is the single display unit for all of TEXA's latest generation equipment: RCCS 3 (ADAS calibration), AIR2 SAN (vehicle and workplace sanitation), TwinProbe and UNIProbe (electrical measurements), LASER EXAMINER (brake disc wear and tyre tread depth), GASBOX and OPABOX (emission analysis), eLight (headlight centring).
A world of technical and diagnostic contents
to address the evolution of vehicles
A rapid evolution is characterising the automotive industry and, consequently, the world of diagnostics. For vehicle repairers, this results in the need to rely on tools that can allow them to operate on vehicles quickly and professionally and best satisfy their customers' requests.
For this reason, TEXA has introduced two major innovations: TEXPACK CAR and TEX@INFO Guided Diagnosis.
Besides the constant coverage update for cars and light commercial vehicles, TEXPACK CAR allows access to the information contained in the Tech module* by HaynesPro, with technical and maintenance data, repair manuals, technical illustrations and drawings, repair times, estimator and recalls.

On the other hand, the TEX@INFO Guided Diagnosis** service includes the activation of the Electronics module by HaynesPro, with a guided troubleshooting procedure through the identification, location and solution of the errors in the electrical system and components. It also includes the Smart module, with many solved problems and OEM technical service bulletins sorted by symptom, cause and solution.

The new technical contents are perfectly integrated in the IDC5 diagnostic software by TEXA and can be reached from "Technical Data and Checks" in the main menu, from the TGS3s vehicle scan if any DTCs are present, or from the diagnostic system via a direct link.
* Available for TEXPACK CAR contract subscribers with Plus or Premium license.
** Reserved for customers with active TEXPACK CAR.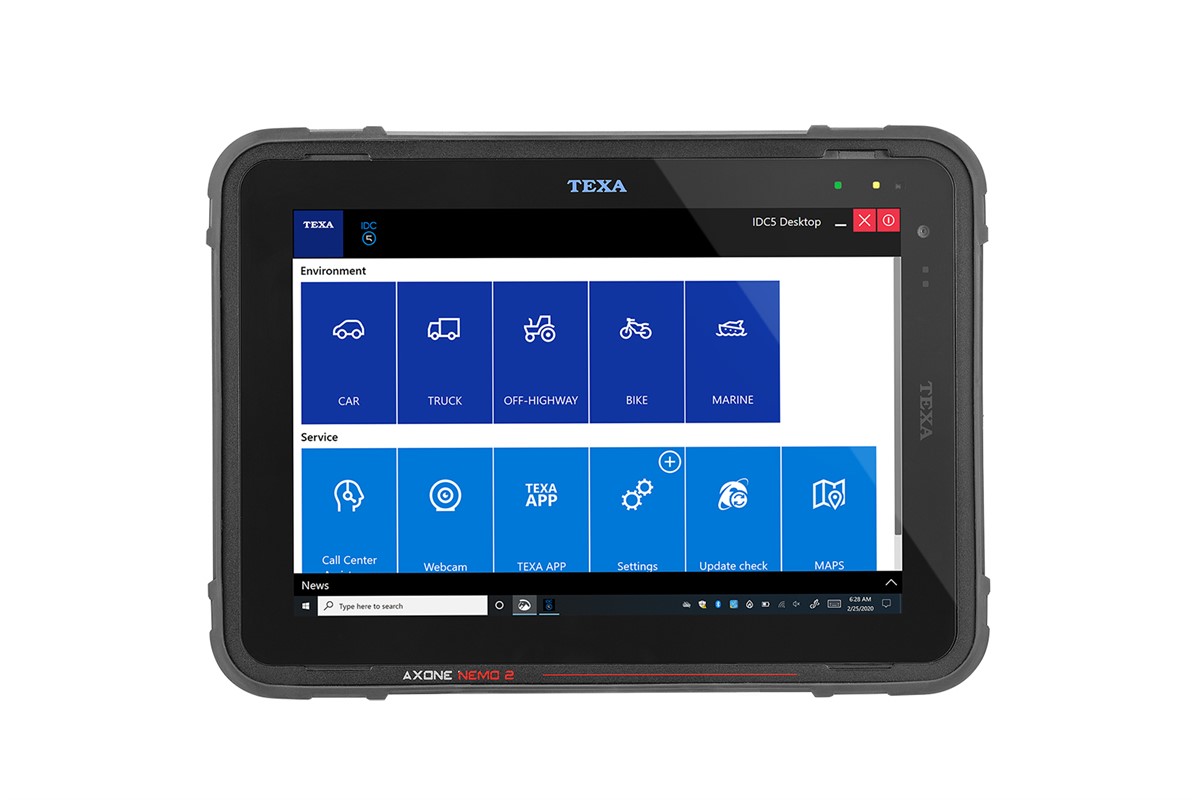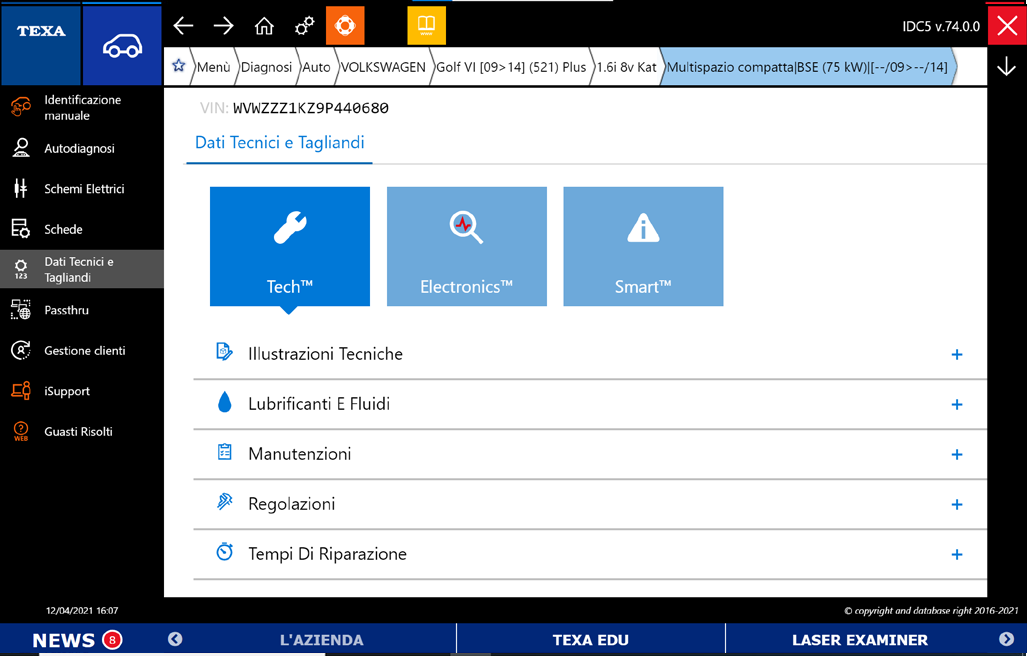 The new HaynesPro database, consisting of the Tech, Electronics and Smart modules, is easy to use and
accessible from the Technical Data and Checks menu item, but also from the TGS3s vehicle scan and from the diagnostic system via a direct link.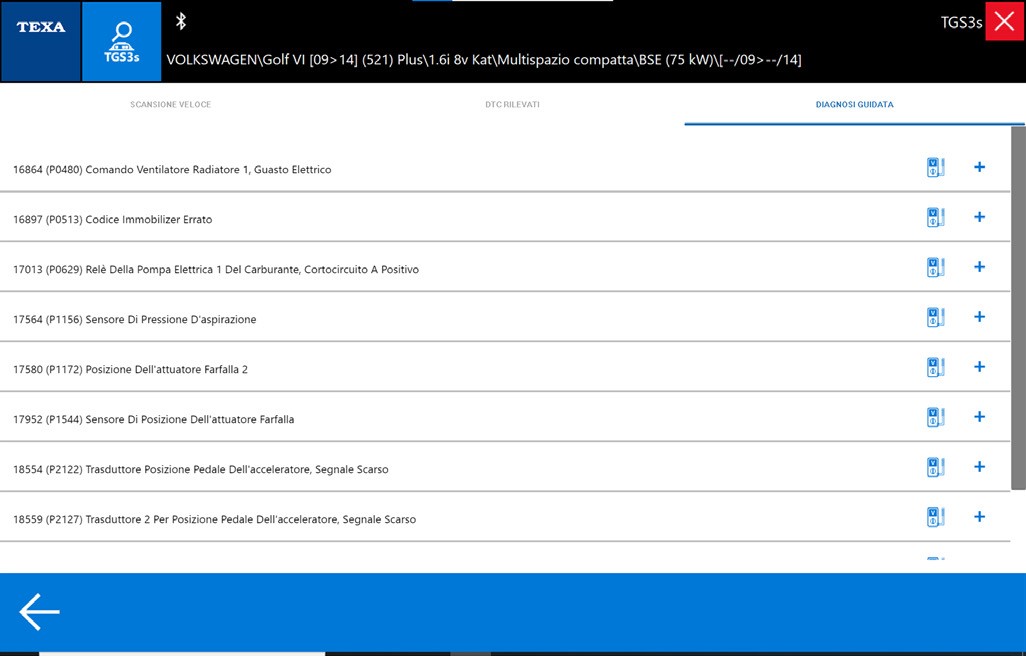 After performing a global scan of the control units on board the vehicle, the Guided Diagnosis tab shows any detected errors and allows launching the troubleshooting procedure by clicking on the specific icon.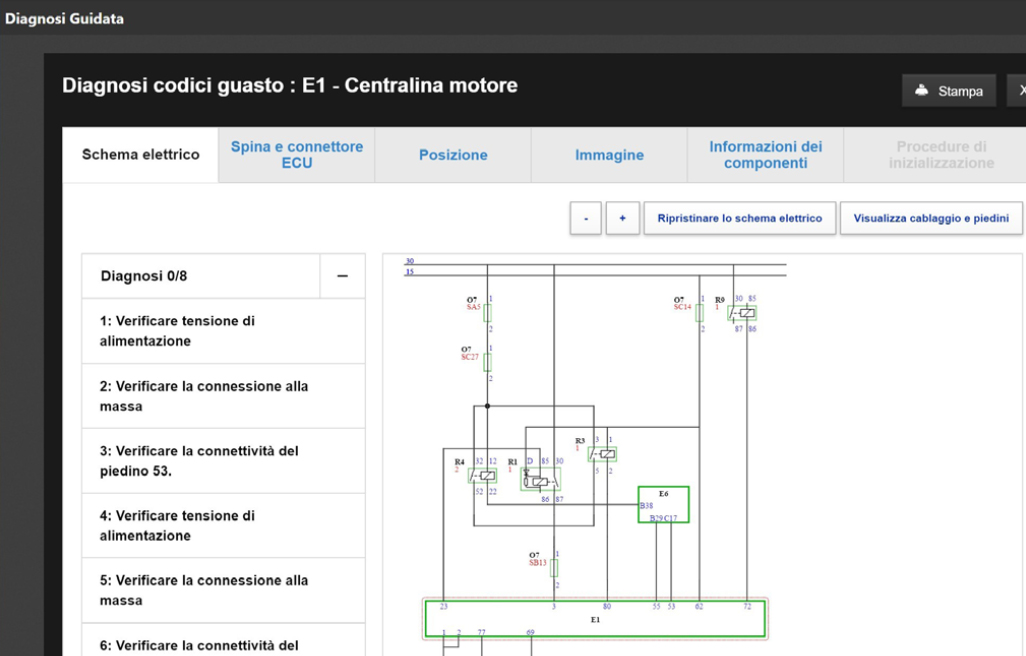 The guided diagnosis allows identifying, locating and solving any errors in the electrical system and components through a procedure integrated in the IDC5 diagnostic software.
The brain in TEXA's diagnostics
The IDC5 software is complete, practical, intuitive and extremely quick to access communication with the vehicles.
It guides you through all the diagnostic phases, from the error identification to its solution. 

Always in a practical, safe, professional way.
Powerful software Extensive APPs
The TEXA APP virtual store includes the list of applications developed by TEXA that allow extending the IDC5 software functions or coverage, for example.

A series of exclusive contents that further simplify your daily work.
Many APPs are included in your AXONE NEMO 2, but you can activate more, to customise your diagnostic tool to suit yours and your workshops needs.
Team and technology at your service
Exclusive services that allow you to make the most of its potentiality and receive continuous support by the TEXA Call Center's team* of specialists.
This way your workshop can always keep up with the latest automotive technologies.
An extra ally for the daily work of vehicle repairers.

* Verify the availability of SERVICER in your own country.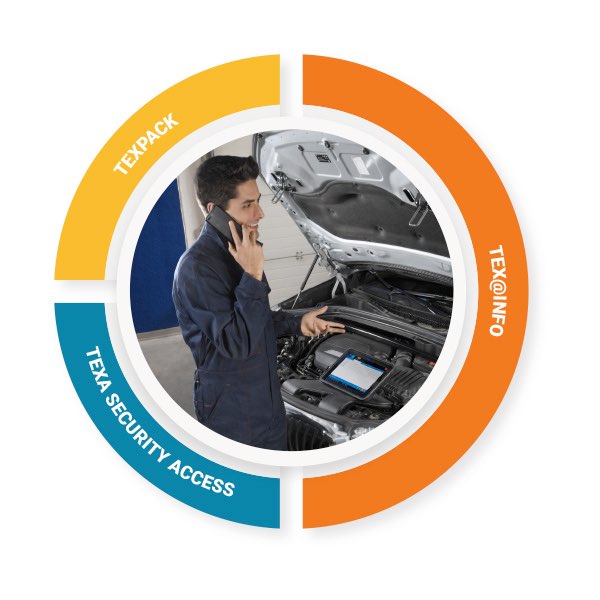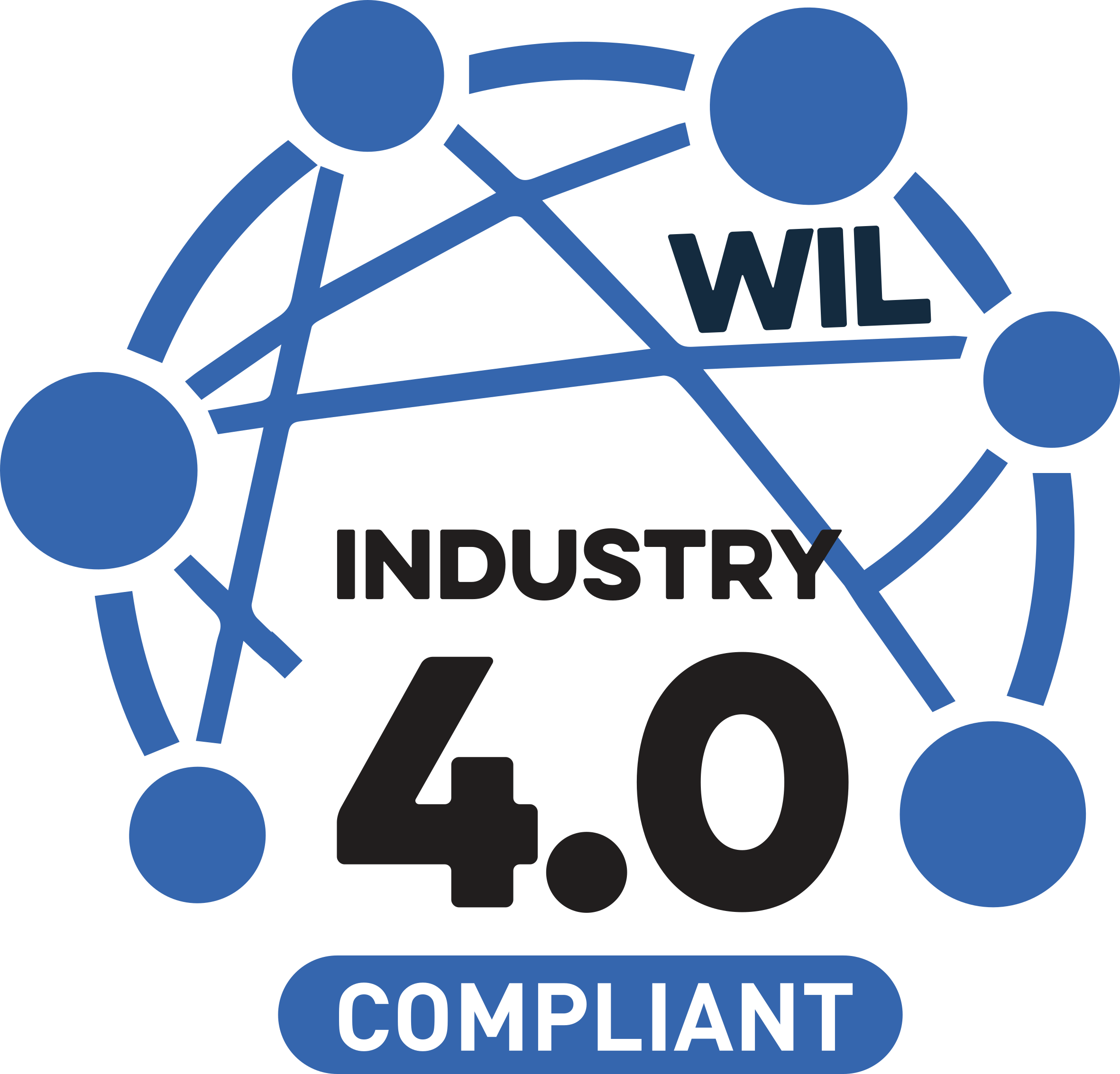 Prodotto da inserire all'interno del sistema per autodiagnosi dei veicoli. Verificare con il proprio rivenditore TEXA di fiducia le modalità di accesso al Nuovo Piano Industria 4.0.
MANUFACTURER
TEXA S.p.A.
MODEL
AXONE NEMO 2
PROCESSOR
Intel Pentium Quad Core N5000
RAM MEMORY
8 GB DDR4
HARD DISK
250 GB SSD PCIe
BIOS
64 Mbit Flash ROM, AMI BIOS
OPERATING SYSTEM
Windows™ 10 Enterprise IoT SAC Trusted Platform Mobile 2.0
VIDEO PERIPHERAL DEVICES (built-in)
High-contrast ultra-wide viewing angle 12″ QXGA display; 2160×1440 pixel; 216 ppi, high sensitivity touch controller
AUDIO PROCESSOR
Realtek ALC892-CG
AUDIO PERIPHERAL DEVICES (built-in):
• 2 speaker
• 1 MEMS digital microphone
WIRELESS PERIPHERAL DEVICES (built-in):
• WiFi 802.11ac
• Bluetooth 1.1 / 1.2 / 2.0 / 2.0 + EDR / 2.1 + EDR / 3.0 / 4.2;
Class 1.5; Intel ac3165 dual band 2,4/5 GHz WIDI compliant
GPS
QUECTEL L76
SENSORS
• Barometer
• Ambient light sensor
• 3-axis gyroscope with digital output
• Magnetometer (compass)
• Internal thermometer
• ± 8g 3-axis digital accelerometer
EXTERNAL I/O PERIPHERAL DEVICES
2 proprietary connectors for external proprietary modules (a total of 1.2 Adc)
CAMERAS
• Front: 5 Mpixel
• Rear: 5 Mpixel with LED flash
LED
• 1 green LED verde (system status)
• 1 red LED (charging / power supply status)
INTERNAL BATTERY
Type: Rechargeable 50.3 Wh Li-ion; 7,2 Vdc; 6990 mAh
Display unit internal battery recharging temperature: 0 ÷ 45 °C
EXTERNAL POWER SUPPLY
From external power adaptor model TRH070A190:
• Input: 100-240 Vac; 1,5 A;47-63 Hz
• Output: 19 V – 3,7 A
• IEC 60320-C14 socket
• H05 VV-F cable
ABSORPTION
12 Vdc (4 Adc) – 24 Vdc (2 Adc)
AUTONOMY
Approximately 5 h
OPERATING TEMPERATURE
0 ÷ 40 °C
STORAGE TEMPERATURE
 – 20 ÷ 50 °C
OPERATING MOISTURE
10 ÷ 80 % without condensation
BODY
Magnesium with rubber inserts
DIMENSIONS [mm]
237,86 x 325,68 x 29,84
WEIGHT
1850 g
DIRECTIVES
• RED 2014/53/EU
• ROHS 2011/65/UE
ELECTRICAL SAFETY
• IEC60950-1:2005 + AMD1:2009 + AMD2:2013CSV
• MIL-STD-810G TRANSIT DROP TEST
ELECTROMAGNETIC COMPATIBILITY
• ETSI EN 301 489-1
• ETSI EN 301 489-7
• ETSI EN 301-489-17
• ETSI EN 300 328
• EN62479
• ISO 7637-1
• ISO 7637
High Quality Standards by TEXA
AXONE NEMO 2, Power and speed always at hand